Riveria Maya Corridor
EDSS 5/25/13 Wedding
This is a review of: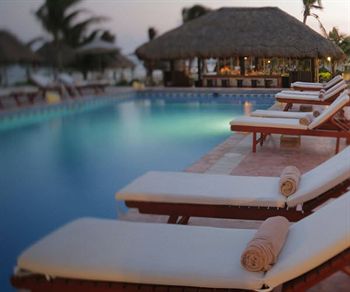 Detailed Ratings
Pros:
The grounds are beautiful, food is great, excellent customer service
Cons:
60 min from airport
AEDSS Review Before I begin my review I would like to start off by saying that I started planning my wedding a year and a half out. We wanted to give our guests plenty of time to plan for the trip, which in turn gave me plenty of time! Wedding date: Saturday, May 25,2013 Wedding coordinators Valeria and Paty Budget:$10,000 without my dress Package: Free Sweet package Lomas travel for transfers Total of 29 wedding guests My travel agent, Joanne Medima at Sunchasers Travel helped me comb through dozens of resorts to find the right one. My criteria included: a small resort (less than 400 rooms), 24 hr room service, in room minibar, above average food reviews, and somewhere I wanted to be married at but at the same time our friends/family could use as an affordable vacation spot. After plenty of pricing and researching trip advisor and bestdestinationweddings.com, we selected EDSS. My communication with Valeria was wonderful. She is very busy and I know this because she has an out of office message that responds to your email explaining that she will be responding with 48 hours. She always responded before the 48 hour window and was very knowledgable and helpful. I certainly tried to do my part by researching on my own before requesting her assistance. During my on-site meeting with Valeria and Paty we went through all the details to the T in which we had settled on previously. Paty was also very attentive and warm. Understandably, I was a bit nervous about planning a wedding in a place that I had never visited before- but I truly felt that Valeria and Paty were present in our meeting and wanted to make sure I was happy with everything...and I was! Ceremony Symbolic location: pier gazebo decorations: White runner and two small bags of rose petals time: 6:00 Our ceremony was great. It was a little bit breezy but that kept it cool. We didn't add any decorations to the gazebo because I thought it was pretty by itself. We did change the runner from red to white and added a small bag of light pink rose petals and a darker pinker petal. (The bridesmaids dresses were a shade of fuchsia/hot pink.). We also didnt add chair covers because I really liked the simplistic look of the white wooden chairs. Spa: Hair appointment: 4:00 Couples massage Hydrotherapy The spa was wonderful! I visited the spa twice. Once to get my hair done and on for our couples massage. The spa was beautiful and very relaxing. The hydrotherapy is a must!! Flowers My flowers: cascade w white roses, casablancas, hydrangea, green foliage Model BB36 Bridesmaid flowers: Small brides bouquet in ivory lilac and pink Groom: MODEL B1 in white cymbidium orchid I loved my flowers. I was very hesitant about only being able to have a certain list of flowers, but that is all apart of a DW. My flowers, a bit expensive, were absolutely worth it. Attire Bride San Patric Cobre Tamera's forever bridal Groom Tommy Hilfiger suit from Macy's Bridesmaids Limited pink strapless tiered knee length dress Groomsmen khaki pants, white button up, Tommy Hilfiger sun watched plaid tie in pink Reception Location: white gazebo terrace Menu: BBQ Delux Dj: mega dj with mc Decorations: white linens with bridesmaid bouquets as centerpiece with 4-5 flameless votives per table Tables: sweetheart and then 4 round tables with room for dancing in the middle The reception was hot. We had the BBQ Delux and the food was great. However, the heat from the grill added to the heat of the night and turned it into a sweat box. The table nearest the grill were dying of heat. In fact, it was so hot we had to cut our reception an hour early because it was too hot to dance and we needed breeze. Our DJ was great. We picked Mega DJ because they were less expensive than the other option. I thought that would mean, just a DJ and not all the bells and whistles. I was so wrong! We had a fog machine (which provided some glorious cold air), a bubble machine, and glow sticks! I would absolutely recommend them. However, we paid for the extra MC because the DJ himself did not speak any English at all. Room Premium Swim-up Suite Our room was beautiful. The bed was amazing. I loved our swim up suit. We had sun in the morning and it stayed until the early afternoon. We would wake up, order room service, and then lay out until lunch- then we'd go off and find our guests. Oh and tons of fun towel critters! Grounds, beach, and pools The grounds were so lush. Everyone in our group was just amazed about how nice it was. We saw lots of lizards and birds. The beach butler wasn't as great as I had hoped for because our drinks took forever! Yes, admittedly, we probably drank more and faster than their average guest. But it was faster to get up and go over to a bar for drinks. We never had an issue finding a beach bed. The beach wasn't the most impressive I've seen but the water is pretty. We were able to wade and swim without water shoes. We also tried to swim in every pool there and they were all great. Partiers and the louder folks tend to gravitate to one pool and so on. Favorite restaurants by meal Vida Garden grill for a la carte breakfast Arricefes for breakfast brunch Sandwicharie for lunch Vida for lunch La Cantina for dinner Klay Katay for dinner Favorite bars Guacamayas bar Premium swim up bar The food was great for an all-inclusive resort. But let me just say they are very serious about the dress code. I bought a pair of new, pretty flip flops and I thought they looked dressy, but I got scolded for them. Overall, the resort was great and we will absolutely return. If you have questions, please let me know. I will post my pics soon!