Riveria Maya Corridor
Tiff and Tate's Now Sapphire Wedding
This is a review of: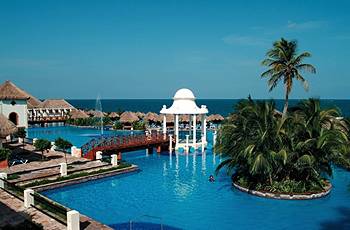 Detailed Ratings
Pros:
venue, staff, food, on-site planners
Cons:
pre-wedding communication; honeymoon registry; resort photographers
Upon arrival, we were brought to the Preferred Lounge for Check-In. Our room wasn't ready, so they suggested that we get some food and explore the resort, but not after a sneaky time share pitch. They wanted us to come to breakfast in the launge the next morning to talk about their vacation club and the particular agent was pretty ruthless. She called us the next morning and at least one more time. We really only utilized the in-room internet and reserved palapas that come with Preferred. We had breakfast one time at Cibu, but it was the same as in the buffett, just quieter.
Wedding Coordinator: I emailed back and forth with Anel before the wedding, but had my meeting with Ramon, who was the day of coordinator and the person I spoke with when there were any questions. At our meeting, he had my planning sheet printed out and we made changes as needed. He gave us a tour of the property and showed us our ceremony and reception locations, as well as the locations they use when there is rain.
Package: Now to Eternity
Hair/ makeup: We showed the ladies in the spa pictures of the hairstyles we wanted and they did wonderful work. My hairstyle wasn't really like the pictures I showed them, but it ended up beautiful and stayed in place all night! My friend with short hair wasn't happy with hers when we left the salon, but the wind blew it into nice beachy waves. Marilou also did my makeup and they use MAC, which meant my sister could touch me up during the night (which we ended up not doing since we were all so sweaty!) We started hair at noon and two people went at a time. There was another bridal party in there at the same time. As the girls finished hair, they went to my room and my sister did their makeup and ordered us room service, which we ate around 3. we were ready with plenty of time.
Couples Massage: It was wonderful, but we scheduled it for 9 AM the Monday after wedding and they called us at 8:45 on Sunday and asked where we were. 9 AM was when we were supposed to have our Wedding Breakfast in bed served, but it all worked out. They delivered it and we just ate it after the massage.
Décor and Setup: 25 white covered chairs were included, as well as a white sheer covered chuppah. I provided teal organza chair sashes and raffia fans that were tucked into the chair bows, which was a nice touch. We also provided LED tealights in frosted
votive holders and starfish (one large one on the sweetheart able, starfish frames that said Mr. and Mrs. and small starfish on the tables). The reception setup was two long tables for the guests and a sweetheart table for my husband and I. It was perfect for mingling and it left the whole covered area open for dancing.
The food/drinks: We had our champagne toast up on the Tequila Terrace immediately after the ceremony. My husband and I made out exit and went up there and everyone met us up there after the rest of the recessional. We asked to add an appetizer choice instead of a soup, which Ramon had no problem with. The appetizers were proscuitto and melon, tomato and mozzarella, chicken taquito, fried shrimp and bacon and spring roll. I did not get to taste any since we were taking pictures, but the guests raved about them. We served a signature cocktail and had a full bar for the cocktail hour and reception. It was totally worth the $350 set up fee. They were able to make any drink that any guest could have asked for. Our dinner selections were Beef Tournedos, which was two filets served with asparagus and either rice or riced potato (I can't remember) and the Chicken Supreme (It was served over pasta and had a little spice to it) Two of my guests needed the fish option and they enjoyed it. I had to differentiate who received what dish on each person's place card, but I did it using colored gems, so it blended in with the décor. Dessert was the cheesecake and my one bite was delicious. Definitely not the same cheesecake served in the buffet. We had the Tres Leches cake for 25, and again, my one bite was delicious. After the wedding, several guests said they did not get any cake, but I have no idea if it was because there were 35 people at the wedding, or they did not serve it to people who did not go up and ask for it. I had provided boxes for people to take cake back to their rooms with them, but the boxes ended up unused. Each layer of the cake was on a separate pice of cardboard, which really confused us when cutting.
Resort Photographers are Adventure Photos. We decided to use them to take photos at our Welcome cocktail reception on Friday. We went to their desk fairly early on Sunday, the day after the wedding to select the photos to put on the CD. 24 photos are included in the package and it was difficult for us to pick out 24 photos that were even acceptable for us to consider. I would not recommend to use the resort photographers for your wedding.
Our photographer was Juan Navarro. We emailed back and forth multiple times before the wedding and he made sure to get our contact information at the resort. All payments were made through PayPal He gave me a call when he arrived at the resort and let us know he would be at my room at the scheduled time. Juan brought a second shooter/assistant Arturo. They were both very professional and have a great sense of real photography. Arturo shot the guys while they were getting ready, and Juan stayed with the ladies. Juan gave us great directions with respect to posing and asked what kind of pictures we wanted to take. There were several spectacular lighting opportunities that he was able to take advantage of. Throughout the night, he would show us the shots he had taken through the viewfinder. While, I have only seen a few of the actual images (on his Facebook) I have no doubt that they will be amazing.
DJ: We selected DJ Mannia who brought an MC, and one, maybe two others who were working the sound system. They had your typically DJ lights that went with the music. They sent me a form to fill out with the cocktail and reception schedule, songs for entrances, names of the members of the bridal party and our names, as well as a list of songs to play. They did not play any of the songs I requested during dinner, which was disappointing. They did play the songs during the dancing, but people had to request the songs, we had requested in writing. The music itself was great and the atmosphere was VERY FUN, but there was definitely a language barrier. Apparently they thought my name was Jennifer and they were not able to pronounce our (very easy) last name when we entered. The bridal party entrance songs were correct as were the garter toss and cake cutting. When they played the incorrect song for the bouquet toss, they quickly corrected it, so it was fine! Overall, it was a great party with great music, but I think we could have had the same feel using just a iPod and speakers.
Flowers: I knew I didn't want to spend a lot of money on flowers, so we used Floreria Riviera and I communicated with Alina via email. We decided on white/ ivory roses with green hydrangeas for the bridesmaids bouquets. They were beautiful – I actually liked them better than my bridal bouquet. I bought 5 bouquets and they cost about $200 including delivery. They let us know where and when to meet the delivery person, and my husband met the delivery person at the outside gates. There was no issue at the resort with using outside flowers at ALL! We used the included bridal bouquet of ivory roses, groom's boutonnière (single ivory rose) and the included centerpiece, which was ivory roses and green hydrangeas in a square vase. We were charged a fee to have it upgraded to a Divine centerpiece, but we asked them to put it in our room, so we could enjoy it after the wedding, which they did. That centerpiece was used on the ceremony table and then moved to the sweetheart table. The rest of the bouquets were placed in vases on the tables as centerpieces.
Overall Impressions: Everything went so smoothly! At about 10 minutes til 5, Ramon called the room to see if we were ready and sent a golf cart to pick us up. They dropped us off at the main lobby and we made our way through the "halls" and met Ramon in the area between Fresca and the Market Café. The ladies made their way out and then I did too. I was SO SO excited at this point. I was actually jumping in place as I waited for my turn. The minute my husband and I saw each other was such a great feeling! The ceremony went very well. It was windy, but everyone was able to hear with the microphone. After the recession, we had our champagne toast on the Tequila Terrace and started taking pictures. We took pictures for the full cocktail hour then made our way back for the grand entrance. It was spritzing some rain toward the end of photos and during dinner, but it cooled things down and everyone who works at the resort know the weather and knew it wouldn't stay rainy! The wedding staff was the staff of Fresca and we had eaten there a few days before, so the staff knew the guests and vice versa, which made it really nice! we made sure to eat dinner there again after the wedding!
Overall, I would do it again in a heartbeat. I loved that the planning wasn't too intensive, the cost was reasonable and that we were able to spend several days with our family and friends rather than just hours. All of the extra things I thought I would need (Tiffany chairs and lanterns and lounge furniture) and all of the things I was worried about during the planning processes were totally forgotten by the time we were partying that night.