Cancun
Grand Caribe Real Chapel Wedding
This is a review of: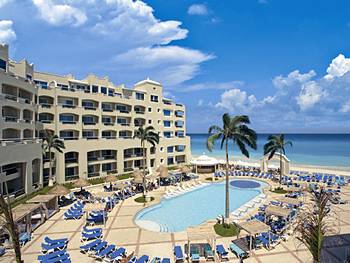 Detailed Ratings
By
ncalvar
, · 2,693 Views · 5 Comments
Pros:
Friendly staff, food, drinks, beach, beautiful view and amazing experience
Cons:
Poor communication (planning process)
Our stay: April 21-26th
Our wedding:
April 24, 2013 at 5:00 p.m.
Ceremony: Our Lady of Guadalupe Chapel
Cocktail & Reception: Villas Terrace
Guests: 32 people
ROOMS:
Prior to our arrival I had been notified that our upgrade was not available at Grand Caribe Real (GCR) so they actually upgraded my husband and I to The Royal next door, even though all our guests were staying at GCR. Before we went and checked into our room, we stayed at GCR to make sure that all our guests were taken care of since we felt guilty just leaving them on their own..... Once we arrived at GCR we were greated and informed that we had private check-in so all our guests' suit cases were taken by the bell boys and we were all escorted to a different counter. At the time of the arrival they welcomed us with wet towels and a drink for all our guests (this was all part of our package through our travel agent) there was even a sign that said welcome "Calvar & Nardone Wedding Party" We arrived at around noon so most of our rooms were not ready since check-in is not until 3:00 p.m. They do give you the wrist bands right when you check in so you do have the option of hanging out by the bars or going to get something to eat. (some of our guests even got their luggage and changed into swim suits and then gave their luggage back to the bell boys).
Our upgrade at The Royal was beyond beautiful! We stayed in The Royal Master Swim Up Suite and it was gorgeous. I was a little concerned about the rooms at GCR because they seemed a little dated and I was worried about my pictures while I was getting ready. I'm somewhat of a snob with certain things so I know the rooms at GCR would have been a problem for me. The ones with the wood beds are a little newer and I think those are great, I just didn't like the iron gotti looking headboards in the older rooms. With that being said, that is just my taste!!! Not one person in our group complained about the rooms and everyone loved their stay at the GCR.
OFF-SITE WEDDING COORDINATORS:
From the moment that you book your wedding, you are dealing with off site coordinators, and you don't speak with your day of coordinator until 30 days before your actual wedding. At the begining I was not aware of this and I assumed that I was dealing with the person that would be there the day of my wedding. The problem with this is that you're now having to tell someone else 30 days before you're wedding everything that you've already spoken about. MY BEST ADVICE IS TO MAKE SURE THAT YOU HAVE EVERYTHING IN WRITING THAT YOU HAVE/HAVE NOT AGREED TO!!!!
I had a few challanges along the way but being persistant def. worked in my advantage.
ON-SITE COORDINATOR:
My on-site coordinator was Diana. She was very nice and seemed to really know what she was doing, yet again not the best at responding to emails timely but I understand that they are busy. She was very thorough during our meeting two days before our wedding in making sure everything was how I wanted it and I enjoyed working with her.
CHAPEL:
The chapel speaks for itself! As soon as you see it, you fall in love. It's beyond beautiful!!! I dealt with the church prior to our arrival to make sure that they had all the information required for us to get married through the church. I know they tell you to take an original paper giving you authority to get married but they never asked us for it, we just sent the wedding coordinator a copy of it prior to our arrival and then made sure that our diocese had sent all the proper information to them. We were told that we would have to do all the mexican traditions (Lazo, arras, bible) during our ceremony. You do not have to do any of these unless you choose to. The day before you will meet with the priest and he will ask you what you want to do. We chose to do the lazo, bible, and a unity candle. You also need to give the priest your readings the day before. FYI they didn't provide us with holders for the unity candles so make sure you bring your own otherwise, it will just be on the table.
SPA AZUL:
My wedding package included my hair and makeup at the spa in The Royal. I must say that they did an awesome job! I walked in not knowing exactly what I wanted done, and they really worked with me to give me ideas and they did a fabulous job with both my hair and makeup. My mother, daughter, sister and one bridesmaid also did their hair at the salon and they did a great job! Everyone was happy.
WEDDING:
We were late for the ceremony because my hair/makeup and pictures ran longer then they should have, it also didn't help that we were at The Royal so Diana had to get us transportation to GCR even though the hotels are next to one another. I think that the chapel looked beyond amazing (only decor that I had was the altar flowers that were included in my package and rose petals on the aisle that we purchased). The chapel is so pretty on its own that it really does not need a lot. I think that the priest did a good job with the ceremony, his english was really good and everyone could understand him. He notified the harpest as to when he needed to start playing the music and all around did great. My only complaint would be that we had requested a bilingual ceremony and it really felt more like an english mass with only one reading is spanish and me saying my vows in spanish. Besides that I think that the ceremony was great. After that Diana did a great job in moving everyone to the Villas Terrace for the cocktail hour (we paid extra for hot and cold apetizers and we also had a signature drink that they included for free....just ask for it =) While everyone was at the cocktail hour, we went to the beach and took pictures with our bridal party. As cocktail hour was over, we joined the reception. I think that they did a great job making sure that everything was how I liked it and had requested it to be. The only thing that I would complain about is that I paid for all the votive candles and 90% of them were not lit. I know it was windy but you could tell they had never even tried to light them. In their defense maybe they lit a few and they wouldn't stay lit so they didn't bother with the rest. IDK but not a big deal.... I think the food was fantastic! I even had people tell me that it was the best food they had all week. We served steak, with mashed potatoes and a side of pasta w alfredo sauce. It was delicious, I was starving so that might of helped form my opinion. The bar was also great in accomodating everyone with whatever they wanted and you could totally tell that the liquor was better then what was offered at the resort all week long. Diana (WC) was very sweet in checking up on us during the ceremony to make sure we had everything that we wanted or needed.
CAKE:
I upgraded my cake because I didn't like any of the ones I had seen and I had found a cake that really looked like my dress on pinterest. I sent the WC a picture of the cake and I was told that they would be able to make it. However, because of the humidity they didn't think it would hold up in the heat. My husband had a great idea of having them keep it until we were ready to cut the cake. I must say that I was very reluctant to see it because I had read plenty of reviews of their cakes and how unsatisfied people were. As soon as I saw the chef bring it out, I was totally pleased with the way it looked. Granted, it wasn't identical but they def captured the feel of the picture that I had sent them.
DJ
We went with DJ Doremixx who is one of two of the DJ's that they offer. I will say that he did a really good job keeping everyone going and having a good time. The only complaint would be that we decided to walk into "feel this moment" by pitbull and it was supposed to be a 45 sec intro and then we were supposed to go into our first dance. Instead of playing the 45 seconds, he played the whole 3.5 mins of the song and then we were there for another 3 mins for our first dance. He also didn't play all the songs that were "must plays" on our lists and we only had like 8 songs. Lol! With all that being said, I will say that he did fabulous job and everyone loved him. They brought props with them that included balloons and masks, I thought they might be a little chessy but everyone really liked them (power of alcohol). LOL The best part was the end when they did the cold fireworks while my husband and I were dancing! Made for some great pictures.
FLOWERS
I used Maya Floral for my flowers. They were awesome at communicating with me and sending me plenty of options to choose from. This is where I had some issues with the WC's that I dealt with. I was told that I would be able to avoid the $350.00 outside vendor fee if I decorated everything on my own. I was def okay with doing that since I only had six tables that needed flowers. They made sure to make it clear to me that the resort would not be able to touch my flowers since they were not bought through the resort. I was told by my off-site coordinator that I would be able to get the flowers delivered in the lobby and then I could just take them up to the terrace. When we arrived at the resort and had our meeting with Diana she told me that I would not be able to meet the florist at the lobby. My bouquet was done at the resort since it was part of my wedding package, when it arrived and I saw it, I didn't love it but figured I would work with what I had.... Maya Floral was nice enough to make two deliveries the day of the wedding. The first one at 1:00 p.m. with the bridesmaids bouquets and groomsmen butts and the second delivery at 4:00 p.m. with my centerpieces (they wanted to make sure that they were not outside from 1:00 p.m.) When I met the florist for my first delivery, I told him that I wasn't in love with my bouquet and he said that since we only had three hrs before the next delivery he wouldn't be able to make me a new one but that he would fix the one that the resort had made for me.
Since I was already getting ready at 4:00 p.m. my husband and his boys went and met the florist(in the lobby) to pick up the centerpieces, my bouquet and the rose petals for the chapel. Again Diana had told us that my husband would have to go set up the flowers and the rose petals because they would not do it. When my husband went to meet the florist, a bell boy was there with a cart and asked him where which wedding it was for. They never even let my husband touch them and they made sure to get them to the terrace and set them up. Same thing happened at the chapel... when Diana saw the groom setting up the petals, she took over and did it for him. I really think that they want you to have the best possible time and to help with all they can, they just make sure that they push till the last posible moment to try and get you to pay that $350 vendor fee. I'm glad that I stuck to my guns and didn't pay it!
BTW they did an AHHHMAZING job fixing my bouquet, they even added orchids to it.
LINENS & CHAIRS
I bought my own linens from the states, I bought them so much cheaper then what they rent them for. I was told that I would have to set up the linens myself by my off-site WC but once we got there, Diana took care of that. From the begining I wanted the Chivari chairs but didn't want pay the additional $10 per chair so I stayed with the folded chairs which was part of my package. When we did our meeting, Diana asked me what chairs I would prefer for the reception, the folding chairs or chivari and I obviously said the Chivari. I was really happy that it was an option but would've been totally annoyed had I paid for them! They also added in the chair sashes($4 each) for free the day of the reception.
REHEARSAL AT CHAPEL & DINNER
I was told by the WC that it would be a charge of $450 to do a rehearsal at the chapel and that it would be $15 per person for a rehearsal dinner. I opted to pass on both! When we arrived there I asked Diana if we would be able to do a reahearsal and she said that would not be a problem if there wasn't a wedding going on. She even said that she would have helped with our rehearsal but she had another wedding that day. So we took it upon ourselves to do a rehearsal and when we were done we went to Albatros for dinner. Although they claimed they would not sit all of us together when I tried to make reservations the day before, they were super accomodating and sat all 20 of us together! Total savings =)
PHOTOGRAPHY
Although our package included 24 ceremony pictures, I decided to go with an outside vendor. I used Vallejo Photography for both photography and videography. I was initially told that the $350 vendor fee was per vendor. Once I notified my WC that I was doing pictures and a video, they tried to tell me that it would be $350.00 for photography and $350.00 for the videographer. I spoke with a manager and fought that their contract says per vendor and not per service so I was able to just pay one fee! I would totally recommend using Vallejo, they did a fab job and even help cover half of the outside vendor fee. I will say that the resorts photographer Funever did a good job too. I had seen their pictures before and I didn't love them so I decided to pay the outside vendor fee and go with someone else because pictures were really important to me. When we met with Diana she said that since our package included 24 pics, they would still be there for the ceremony. They were really nice and met us the next day at noon to have us select our pictures and show us a video that they tried selling us. I will let you know that if you don't buy the video ahead of time, they will still record your ceremony and try and sell it to you . The told us that the video was $250 and I was able to talk them down to $150! At the end we still didn't buy it because I had already spent close to $1,000 for my own videographer but you can totally negotiate with them.
OVERALL EXPERIENCE
AWESOME!!!!!! I'm sure everyone hears this at their wedding, but I had multiple people come up to tell me that this was the best wedding they had ever been to! Things will go wrong, but none of it compares to what's surrounds you! The views are breath taking and everyone is having a good time all day, every day! I woudn't trade this experience for anything in the world. It was totally worth every minute of stressing, waiting for emails and every issue that comes with planning a wedding from another country. The food was great, the people were insanely friendly and everyone had a blast. Your wedding day is special no matter where it is, it's extra special when you add in a vacation for family and friends and add this beautiful beach to it! I hope everyone has as much fun as I did reading reviews, doing my homework and planning my wedding! I hope everyone has the same excitment that I did and realizes that not everything will be perfect the day of (believe me that was hard for me bc I'm a total control freak) but TRULY ENJOY THIS TIME IN YOUR LIFE BECAUSE IT GOES BY WAY TOO QUICK.
Feel free to message me with any questions or for more pics! It's my time to return the favor! HAPPY PLANNING!
<3 Natalia