Photographer Reviews
Wonderful photographer!!
This is a review of: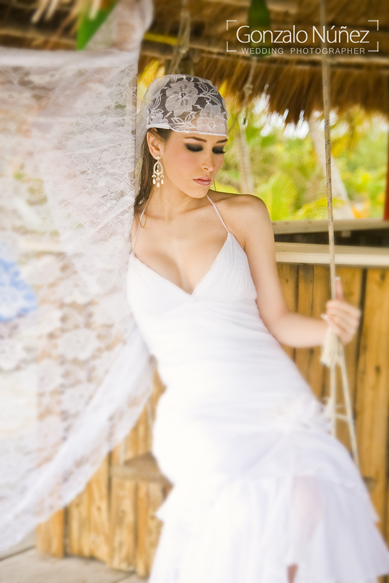 Detailed Ratings

Pros:
creative, friendly, great and quick communication both pre and post wedding, great pricing options, fun, patient, professional, AMAZING!!
We got married in the Riviera Maya on 11/12/11. In planning the wedding, we were trying to keep costs down, but were also not satisfied with the resort's included photo package and the fact that we couldn't know exactly what photographer would be there, nor could we see samples of work. Needless to say I then started doing LOTS of research and contacted a number of photographers. Based on the reviews and prices I had seen from other BDW brides, Gonzalo seemed to be the best fit for our style, vision, and budget, without sacrificing quality. However, I was still a little hesitant to book such an important part of our wedding with someone so far a way with whom we wouldn't meet until the day of. Once I first emailed Gonzalo though, my nerves were immediately gone and I was sure that I'd be hiring the right person!! He was *extremely* prompt in responding to all my questions, and explained his background and passion for what he does. He is very experienced and well accomplished in his profession.
As for the actual wedding day, he arrived hours before the wedding to help capture us getting ready and was there all the way to the end to capture everything in between. He was ninja-like in that he didn't stand out and I hardly noticed him, yet he got shots of everything! My friends and family really warmed up to him and still rave about how much fun he was to be around that day/night. Two days after the wedding we met back up to do the TTD shoot (which btw, he was very flexible on scheduling -- I ended up moving it around just a few days before the wedding due to planning a group excursion, and he was more than willing to accommodate our change in day). He picked us up at the resort and drove us around Puerto Morelos, stopping all over to take some shots when he saw something that stood out to his artistic eye. Then we ended up back near the resort and did the water shots before sunset. It was a really fun day!!
We are definitely no models and neither of us are too comfortable in front of the camera, but he was so easy to work with and worked to get a lot of great shots. Everyone has been so impressed by the pictures! Below are a few of our favorites:

Thank you Gonzalo -- you are an amazing photographer and we are so happy to have found you! We absolutely loved having you there capturing our special day!!