Hawaii
Aston Maui Banyan Review
This is a review of: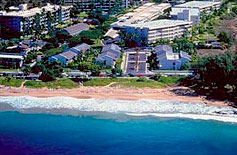 Detailed Ratings
By
karyan
, · 614 Views · 0 Comments
Pros:
All the rooms were clean, half the guest had great renovated rooms, very close to beach/shops/restaurants,grounds were beautiful, great tour desk
Cons:
It's a condo not a hotel
The Aston Maui Banyan was a great place to stay for a wedding group. The rooms were clean and half of the guests had beautifully renovated rooms to stay in. I noticed that anyone who had a partial ocean view tended to have an "older" (read dated) room but they were still perfectly fine. The rooms were all a great size, and all my guests had a great time at the Aston.
The BIG bonus is you can walk across the street to the beach (which is a really nice swimming beach) as well as to near by shops to get groceries. There are also some casual restaurants with good happy hours next door, which were great meeting spots for the group. Not all our guests rented cars so this was a big advantage.
The grounds were beautiful while we were there, so we got some really nice pre ceremony photos with the family before heading to the Five Palms.
The people at the tour desk were VERY informative and relaxed, and there was no pressure to sign up for anything if you weren't sure.
The only cons I would mention (and these are very minor) was you had to bring down your own recycling down but no one told you that when we checked in. The daily room cleaning was perfectly adequate, but you have to remember that this is not a hotel, so they do a light clean in the bathrooms, make the bed an remove the trash. They do not wash dishes or unload the dishwasher..etc.
Also, when my guests booked their rooms, I told them to mention that they wanted to be near to the bride and groom and in a renovated room. The guests ended up being spread out around the property, which was a bit annoying for us when we're trying to go around and greet people as they arrived.
Overall the Aston Group Reservation people were easy to deal with, but I don't feel that our group discount was that cheaper than then online deals. This is especially true for those staying for 1 or 2 weeks.
In all, if you are looking for a nice place to stay in a good location in Kihei the Aston Maui fits the bill. We would have no problem staying here again, but I honestly think you can't go wrong in this area. It is important to remember that it's more condo then hotel, so be prepared for that.