Riveria Maya Corridor
Ceiba Del Mar - Best resort for wedding
This is a review of: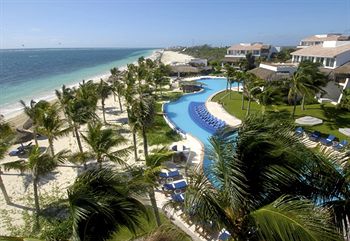 Detailed Ratings
We had our wedding at Ceiba on December 3, 2011 and it was the best experience for us as well as our guests. The sales and wedding coordinator Diana, Luis and Paola were so prompt and professional. All my e-mails were always answered within hours. We did a site visit in March 2011 and we were so happy with our choice. They were so helpful in suggesting vendors for floral, decor, photography, hair & make-up, transportation, etc. We were able to meet with many vendors last minute during our site visit because Diana and Paola set up all our meetings for us. It's always scary to plan a wedding from hundreds of miles away but my husband and I knew we wanted a destination wedding.
Ceiba is a boutique hotel with only 90 rooms and they offer an all-inclusive plan which all of our wedding guests opted for. We've been to other all-inclusives and they're usually huge, sprawling resorts with no charm and bad food. But that's not the case with Ceiba. The resort itself was well maintained and clean. The two restaurants they have on site offered a variety of foods and honestly most if not all the dishes are very good. We got to spend a week at the resort for our wedding and we were never disappointed with our meals. They put a lot of effort in the details and you can tell everyone enjoys their job. Every night, there is a turn down service and one of the perks is getting a card that lets you order a morning beverage and little pastries. You fill out the card and hang it on your door before you go to bed. Indicate what kind of beverage you would like and at what time you want it delivered. And each morning you get a basket of goodies placed in your own room's "cubbie hole". Whoever thought of this was genius! The week we were there they offered free yoga every morning. Fernando is a great instructor and surprisingly a lot of our wedding guests got up early every morning to do yoga on the pier with him. For those who aren't down with yoga, they also have a small but well equipped gym.
I can't say enough wonderful things about the staff at Ceiba. All the staff learned our names and knew we were getting married at the resort that weekend. They also recognized all of our guests and taught them some funny local Puerto Morelos expressions (e.g. "la cuenta y dos policia") whenever they asked for the bill at the end of the meal. The waitstaff were so courteous and professional. You could tell the staff worked hard because they were the same ones serving you breakfast at one restaurant and then work the lunch shift at the other restaurant and then back to the dinner shift. Most of them worked our welcome party, cocktail party and wedding as well. They were always ready with a drink for us and our guests which made our wedding pretty awesome.
I was calm throughout the whole planning of the wedding but we did have a slight hiccup that stressed me out a little. We had some wedding favors sent down to Mexico and they got held up in customs. Of course I get a last minute phone call from FedEx the night before we're flying down to Mexico that the package is delayed in customs. One e-mail to Diana and she was on the phone with Mexican customs to get our package through. There were a few more delays but eventually they released our package and Diana drove all the way to Playa del Carmen (45 min drive) to pick up our package for us. I don't know if another resort would have gone through all that trouble for us.
We held our wedding ceremony on the pier and even though it was windy, everything went off without a hitch. We had two ceremonies (traditional chinese tea ceremony and a ring exchange ceremony) and the Ceiba staff set up all the necessary equipment. Diana and Luis asked a lot of questions which tells me they cared about the details and wanted to make sure everything was to our liking. I don't know what I would have done if Luis were not there behind the scenes to make sure everything went according to plan. We had the reception on the Terrace and the food was amazing. All of our guests loved their entrees (beef filet with shrimp, vegetable risotto or sea bass). Instead of a wedding cake, we opted for cupcakes and they were so divine! Towards the latter part of the night, we had fireworks on the pier as a surprise for our guests. The pyro people did a great job and so did Ceiba for helping us set that up.
My husband and I enjoyed our wedding week thoroughly and it was stress free because the hardworking folks at Ceiba did all the worrying for us. All of our guests kept complimenting the resort because they've never experienced that kind of personalized service before. I can't recommend Ceiba enough to everyone!