Riveria Maya Corridor
Once in a Lifetime at the Valentin
This is a review of: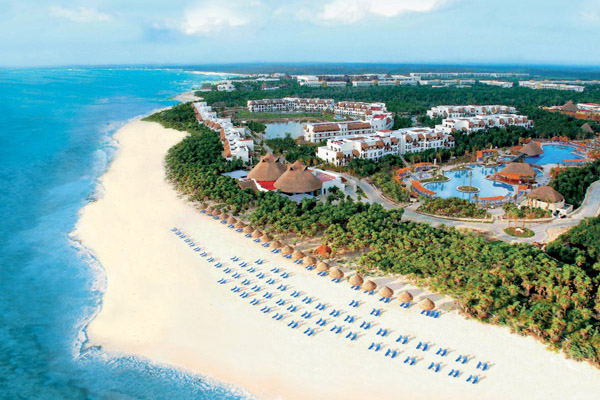 Detailed Ratings
Pros:
Romantic resort, superior service, yummy food
We came back from our dream wedding about two weeks ago. It was absolutely wonderful in every way you can imagine.
Resort: Simply romantic, very peaceful, and I loved the hacienda style decor. The restaurants are great, the grounds are gorgeous, the pool can either be relaxing or fun, depending on what area you decide to set up shop. We plan on coming back for sure!
Checking In: This was the only area we had some issues. Our first check in was great, they had champagne and wet hand towels, and we were welcomed like kings. The issues we had were with our room changes, with keys and the bell hop service etc…but it got figured out…and Ariadna stepped in when some confusion on the bill came up.
Wedding Sites: We had our wedding ceremony in the Chapel, which is surrounded by a little lagoon, the cocktail hour was in the Gazebo which is just gorgeous, and the reception in the Fountain area, which turned out to be a big hit with the wedding party, however one thing I didn't expect is that during dinner it was a little dewy/wet with the fountains on, but it wasn't a big deal. Also, we had lighting under the tables and some lanterns but it was still a little too dark to see your food. So I would recommend purchasing more lighting.
Coordinators: They were amazing! We had spent a year planning the wedding and had a lot of details, but they were on top of every single item and preference. They kept telling me not to worry, and I knew I didn't have to. They were also great with any last minute changes or issues. They were completely professional and friendly. I just can't say enough about Ana and Aridana.
Food: My husband and I loved the food at the resort and at the wedding. We heard the cocktail hour was a favorite among our guests - we chose the Mexican Tapas selection. The only thing we did hear from some guests was that the food, at the reception, was a little cold (which I expected from an outdoor reception).
Flowers: I sent Ana pictures of what I wanted, which wasn't exactly on the list they originally sent me. But the bouquets turned out beautifully! They even looked better than the picture I sent, actually!
Décor & Favors: They set everything up to our preferences and collected everything for us when the reception was over so we didn't have to worry. Everything looked exactly how we wanted it to…just perfect.
Hair and Makeup: The spa staff was very nice and professional, though a little disorganized. I brought pictures and the beautician did exactly what I wanted and it looked great! Also, they made sure we had some mimosas and food, which I thought was really great.
DJ: Did a fabulous job….we danced the night away and every song we requested was played. Again just perfect!
Photographers: We brought our own
Videographers: With everything going on during a wedding, there are so many things you forget. But of course Valentin remembered everything for us…the videographers had a beautiful edited video ready for us when we checked out. Just a great touch!
Webcam: We decided to do a webcam for our friends and family who couldn't make it. From what I've heard the streaming video was great and they all felt like they were there with us, which was so very important to us.
Priest: We had a Catholic ceremony. The priest went off script big time, but we actually all got a kick out of it.
Notes: Overall it was a "Once-in-a-Lifetime" experience, so the wedding package we chose was appropriately titled. The private beach dinner that was included was so wonderful and again another great touch…along with the romantic room décor, breakfast in bed, and all the other extras that we didn't even think of but made our experience extra special. Our only wedding hiccup was that we prepared welcome bags for our guests. However, they were stuck in customs and it was a big mess. Basically, we lost a lot of money and the sentiment because it was too expensive to get them through. Valentin did offer a vendor to assist us with this issue, but by then our options were not affordable. If I had to do it again, I would have either hired a company down there to create them for me, or worked months in advance with this vendor. I am not even sure Valentin offers welcome bag vendors, but I learned that they may not offer it to you unless you ask and they can get it done for a price.