Well, I guess it is my turn! We are about 3 months out and I thought I would post my ideas to not only help others, but also remind me of what I need to get done! I love reading thru everyone's threads and seeing all the pictures
You ladies are a true inspiration to all of us, and sometimes I wonder what my wedding may have been like if I hadn't have found BDW!!! (so my guests also thank you lol)
A small disclaimer... for those who are my elders on this board, you may notice how a lot of my ideas and items purchased have changed! When I started out on this journey I was honestly the cheapest bride known to man! Overtime, I realized that some things I just wanted to have and they wouldn't break the bank! If I could have a date night, I could have those tumblers darnit! lol. So I have added in a lot of extra things, and I have also exchanged and re-bought some others! With that said, some things I just couldn't justify and we made compromises. The joys of time - one can change their mind OFTEN!
Another thing I learned thru this process -- to sit on my decisions longer! I have only been in one wedding, and attended 2 in my life. I made a lot of my decisions based on what my friend did and realized it probably wasn't what I wanted to do. I am not stuck with things I don't want, but I have spent some extra money where it probably wasn't necessary! Big area - BM's gifts - I jumped out and bought a lot of items she gave us, then realized that it just didn't fit what I had envisioned, what my priorities were, etc.
How we met
We met on EHarmony! It was very odd, but fun looking back. Fiancé (Shawn) was going to Asia for 7 weeks but I had a wedding I was in. They were in the same vicinity so as they walked past I came out and introduced myself. HAHA yes really! In my bridesmaid's dress and all! This was March 1st, 2013. The next day we met for coffee and he left for 7 weeks. He would send me emails while in Asia which was thoughtful. We had our first official date on May 4th. I wasn't really sure how I felt from a relationship perspective, but continued to date him as I was enjoying myself. He jokes I refused his first kiss and he had no idea where I stood! Thank god he gave me a chance. Mid July we took a weekend trip together to the Okanagan to go boating and that's when I fell hook, line, and sinker!
The Proposal
Shawn would always ask me about marriage, say things like 'when we get married', etc. I have had some long term relationships that really lead nowhere close to marriage, so I thought about it sometimes but usually let it escape my head so I didn't get excited over nothing. So when Shawn proposed in Varadero Cuba on April 1st, 2014 I was SHOCKED!!! (awe it's bringing tears to my eyes thinking about it). I had no idea he had went ring shopping with his mom, picked the ring up the day we left to Cuba, and was going to ask me! Apparently he carried the ring in his pocket the whole trip waiting for the right time. Well on April 1st at about 11:30 pm we arrived back to our room. There was beautiful towel art on our bed and I wanted to get a picture. Oddly our new camera jammed up so I left it to Shawn and went to get ready for bed. When I came out I asked him if he had taken a picture but he had not. So I took the picture and turned to leave. I believe he said something along the lines of 'really?!?!' as I turned back around to look at him, I caught a glimpse of the diamond ring IN the towel art. Yes I look a picture of my e-ring before I knew it was even there HAHA! When I saw it I did all the normal things 'omg is that what I think it is?' 'Is this a joke?' 'It's April fool's day' LOL I went over and hugged him and he said 'you didn't say yes' I said 'you didn't ask' So he did and the rest is history! I say he had tears in his eyes, he says it was sand. The wedding ceremony will be full of tears I am sure. Sweetest day ever!!!! (if you look really close the ring is sitting at the base of the heart)
The original e-ring
So Shawn picked me out a beautiful, unique ring. What sucked was that the only band that went with it so boring and got lost in the e-ring. It didn't look great, so we started looking for options. We couldn't find anything that fit with it, and we searched high and low! So we decided to go custom but I was really ancy about it. I am a VERY visual person and was so nervous we would spend $1000-$2000 and I would hate it.
The new e-ring
Took a lot of nerve but I asked him if I could change my band. Thankfully at Spence Diamonds you can change your mount once. So I got the keep my diamond but got a new band for it. It's more my style and I LOVE it. Once the guilt wore off, I am super happy I had the courage to ask Shawn. Since we moved to a ring with less gold, I was able to upgrade to a platinum ring for the same cost!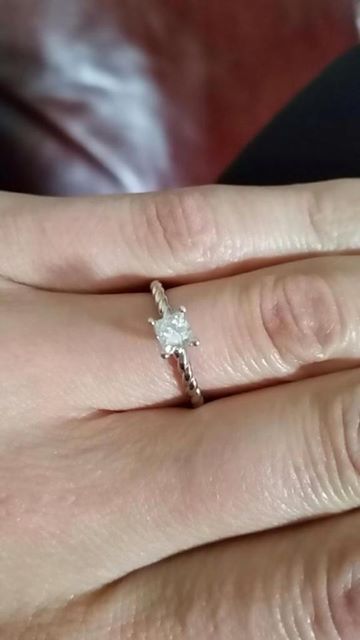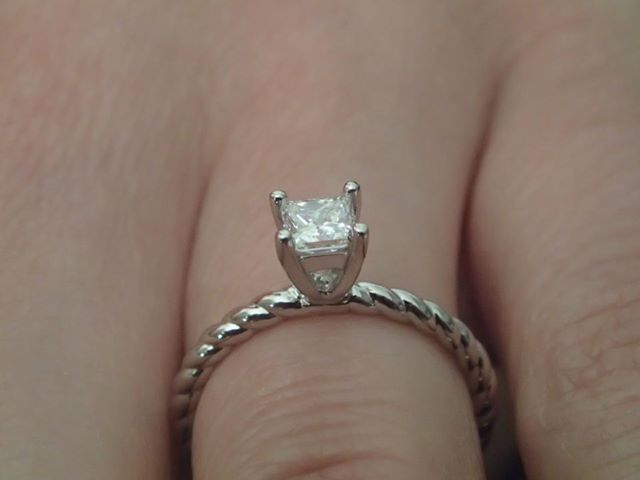 Our bands
Mine is a matching band. I think in time I would like a second one for the other side. Shawn wanted something different and he really loves it. We purchased it from Ben Moss for just under $400. I think our rings match well together.
More to come!! ( I am going to do this in sections )
Our ideas for our wedding
We knew our wedding wouldn't be in Calgary, AB where we live. His family is mainly from Ontario or BC, and all my family is in northern BC. Everyone was going to have to fly. I have always wanted to get married in Las Vegas. So when we started looking at options we did Las Vegas, a winery in Kelowna, BC (beautiful area), Niagara Falls in Ontario or a tropical wedding. Most seemed super pricey to have in Canada as Shawn has a massive family (like his dad has 19 siblings!). Las Vegas was reasonable but Shawn wasn't sold on it as it costs a lot of money to entertain yourselves there (and he has never been! That didn't help my case!). So we were left with a tropical location. We had first thought of the DR as I haven't been and neither has he, but when we talked to someone at The Flight Centre they said Mexico would be our cheapest bet. We trusted her and never priced out the DR. It was crazy to think that I just got engaged and within weeks were had decided to get married in Mexico and the fun began....
The Resort
First off finding a travel agent was FRUSTRATING! No one would ever call you back but finally my girlfriend in BC recommended her friend. We started talking and she seemed to know her stuff. We aren't in the same town but she has done uber amounts of work for us. So we started pricing out the Mayan, Puerto Vallarta and Ixtapa. I was picking resorts based on pricing I had seen before when I visited the Mayan in 2013. I was so upset when those prices were coming back super expensive – from searching Expedia, etc. Then to find decent wedding packages at those resorts left me so stressed out - my head was spinning and I figured we may as well elope. As all you brides now this is probably the toughest part. This is where a good travel agent is valuable. She would price out the ones I wanted, but also recommend ones she knew where good resorts and had recently come back in a decent price range. Our price point was $1500, as we didn't want to price people out of coming. We also needed something kid friendly, well because I have kids! We had narrowed it down to two. The Grand Sirenis Riviera Maya in the Mayan and the Sunscape Dorado in Ixtapa. To be honest, Ixtapa was my first choice, but Shawn really wanted the Mayan as he has heard better reviews. I let him win this one and I am SOOOOO glad I did. We know so many people who have stayed there, who have married there, etc. and we are super happy with our decision. Our Calgary guests are paying $1565 per person, and our Toronto guests are paying $1465. The connectors to each gateway are super reasonable and she was also able to secure a fantastic deal on a hotel here in Calgary as people flying out of here have to spend the night on both sides. A lot of my family and friends are sardining themselves into my townhome!
The Wedding Package
The Grand Sirenis has a lot of options for weddings and packages. You can spend next to nothing and you can spend a lot. What I really liked is that there was options and their extras weren't over the top in price. What we decided to do was take the free package (10 double rooms booked for 7 nights) and add on the extras we wanted. Doing this saved us $1866. Some of the larger packages offered more 'fluff' than we cared for. The free package includes a fair amount, most of our cost is the upgrades in location, menus, and the extras to make the day special. The package also includes some honeymoon items as well. We are having our ceremony on the private beach and then we will have our dinner and reception in the palapa right beside. This is a secluded area you get to by golf cart so our guests will be there all evening.
Our timeline will look something like this:
3:00 pm Ceremony
3:30-4:00 pm toast/appetizers and group photos
4:00-4:45 pm mariachi band
4:45-5:30 pm open bar/sign guestbook/mingle, etc.
We want to enjoy the mariachi band a little bit, but then will be off to take photos.
5:30pm-11:00 pm dinner and reception
11:00 pm disco!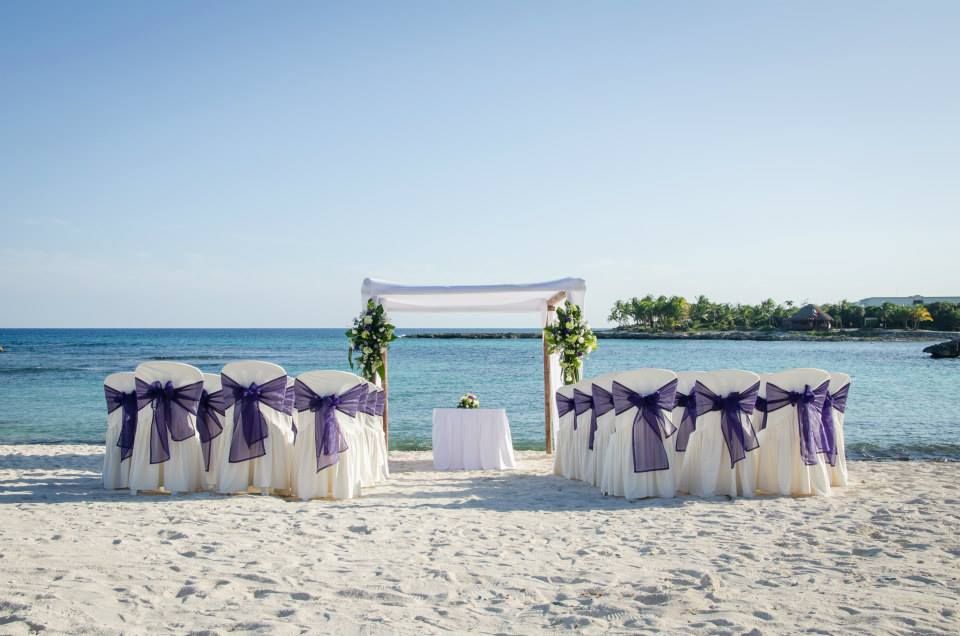 The Invites
This was my first DIY and something I did before I found this site. They are amateur in comparison and may have looked differently after I looked at all your beautiful work! But they were a HUGE hit with our guests. I used aylee bits template I found online and customized it for us. It took me awhile, but it turned out great. I used my home printer, believe it or not! I made a website on mywedding.com for free. www.mywedding.com/shawnandkim2015. More people asked us questions, then read our website but oh well. For the ticket jacket we ended up buying pink cardstock from Michaels (not the right shade but whatever!), and folded it in 3. We cut the one end with a paper cutter and tacked it down with those scrapbook squares. I wasn't crafty enough or have the patience to print something on the ticket jackets, but I don't mind. These took FOREVER! In the beginning I had intended for the luggage tag to be hung from the ribbon but I hated how it sat, so we attached it to the front and tied it closed with ribbon. I didn't know of raffia or twine back then, so white ribbon it was! For 25 we paid about $30-$35.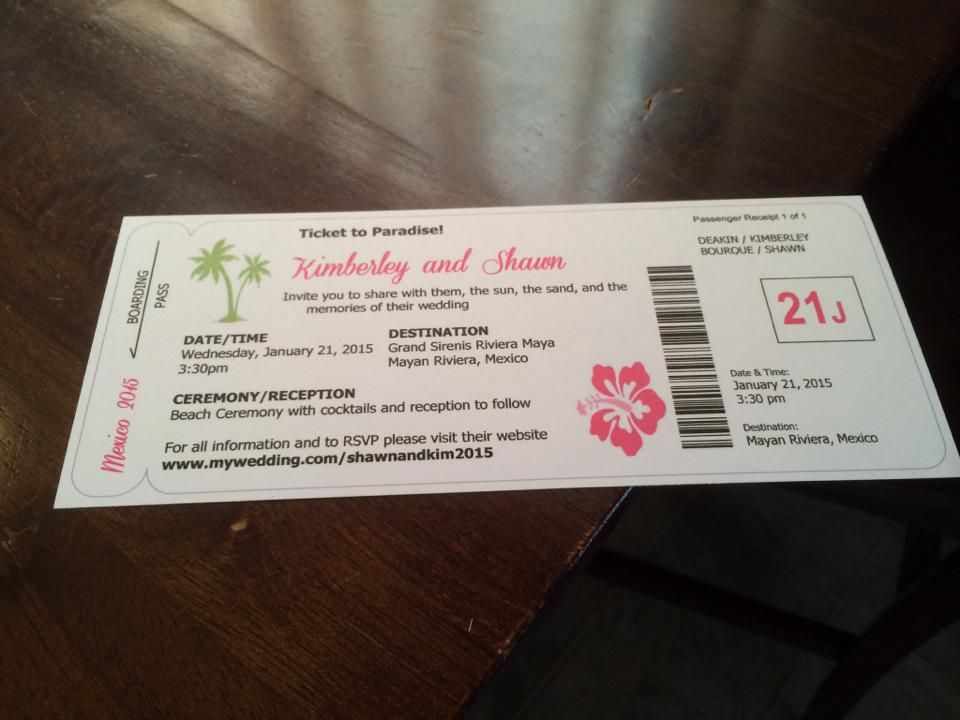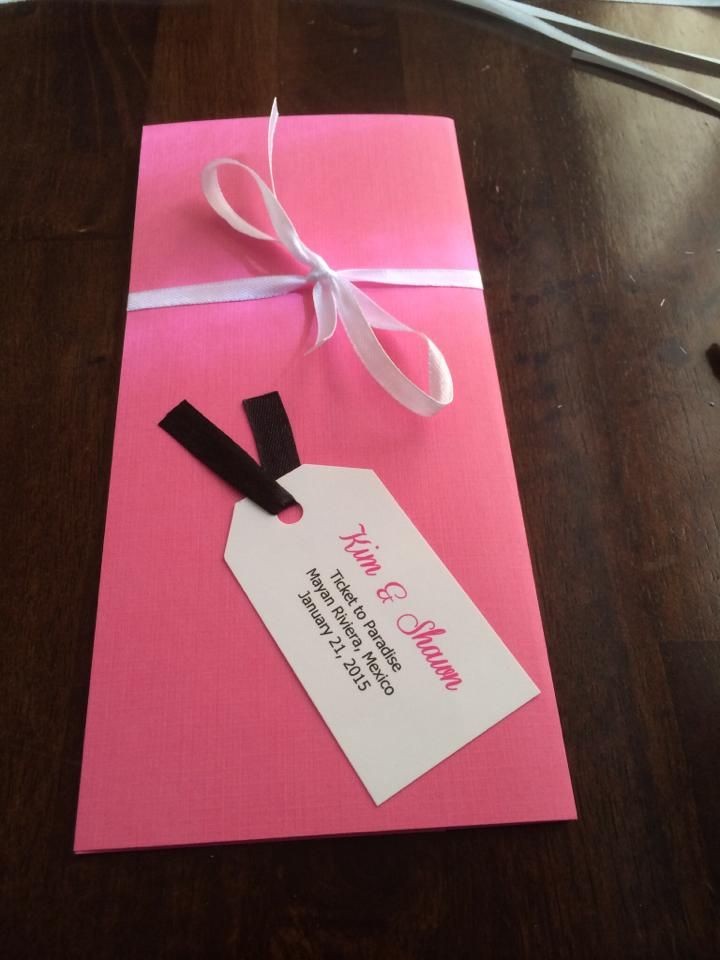 Our colors
FUSCHIA!! Love pink. As you will read below, things changed over time. We went from fuchsia to accenting it with orange, to also throwing turquoise in the mix. I found this on pinterest and that is when I could really jump on board with it. I am trying my best to incorporate the turquoise as this is a fairly new addition.
Alright... stay tune, now we will get into the fun stuff!!!!
Edited by calgarybride2015, 12 October 2014 - 08:46 PM.