Hello Ladies!

We're about 4.5 months out, so I've decided to start one of these planning threads to help me organize myself and get me motivated to start executing all of my plans! I have all of these different folders and notepads on my desktop, and it will be nice to have one place where it's all laid out. This forum has honestly been such a godsend to me in planning my wedding. I've found it really helpful to read other brides' accounts, and I'm hoping I can pay it forward to any future brides. I am a big planner and I love to write, so I am planning on detailing my whole destination wedding planning experience. Feel free to jump forward and just read the planning stuff! I will update pics and stuff once I get things ordered and completed. This first post is going to be really long because it'll be all of my ideas - I will post updates later once I actually execute and finish these.
I can't remember how to put pics in so everyone can see them, so I'm uploading them on a separate site - sorry if the pics are huge!
Our Story

My FI, Tony, and I met online almost 5 years ago exactly. When we first met, we were both pretty young and neither of us was looking for anything serious. I had just gotten out of a long term relationship, and he was still very much in "single" mode and still enjoying it. Much to our surprise though, we found ourselves wanting it to become more serious pretty quickly and we made it "official" about a month later. We've had a fantastic relationship throughout, but I think it was really in our last couple of years together that we've really grown and matured as a couple. It took us 4.5 years of dating to get engaged - much longer than many of our friends - but I'm glad for it because I feel like we know each other so well now, faults and all, and have gone through so much together. I can confidently say that I love him to pieces and I'm so excited to spend the rest of our lives together.
>> The pic on the left was our first pic taken together as a couple right after we started dating almost 5 years ago! It was for my 26th birthday and it pretty much describes what we were like back then (multiple drinks in hand!). The other is us in Peru last year after completing the Inca hike to Machu PIcchu! Our guide told us that you can really learn about your relationship after completing the hike because it's so draining and it can bring out people's worst sides. For me, I saw how completely supportive and strong Tony was and it made me fall in love with him all over again.
The Engagement

My FI proposed on March 20, 2014. I later found out this is actually "National Engagement Day" which is pretty funny and a big coincidence. I did have some inkling before because my FI is very open, oblivious and not sneaky at all, so he was terrible at covering his tracks. I actually found a jeweller's business card on our coffee table with a post it on it with different diamond specs and prices! Hilarious. I left it there for him to "find" to see if he'd talk to me about it or not (and so I could give him guidance to my ring
), and I even stuck it directly under the remote control, but he was oblivious and didn't notice it! I finally put the card away after 2 weeks because I couldn't look at it anymore haha.

He had originally planned a trip for us to go to Montreal over March Break (I'm a teacher), but he ended up slipping a disc in his back and was out of commission so we ended up not going. He had booked a room at the Fairmount, and had rose petals and champagne planned, but had to cancel everything 2 days before. So for his actual proposal a week later, I came home to find him cooking a romantic 3 course meal. I instantly suspected something because it's been a long running joke between us that he should cook for me (I'm the cook in our relationship - he's never made anything more than eggs!). It was super cute because he had found this menu on Martha Stewart and was really focussed and following the directions to a T. After dinner, he told me to go get the dessert (there was a cake box in the fridge), and I knew this had to be it because he's usually always trying to avoid dessert as he's a big health nut. Then he said to me "oh wait, I have to get something" and ran into our bedroom to get the ring box haha. I opened the box and it said "Lily, Will You Marry Me?" on it, and he got down on one knee and proposed
. I love the way he ended up proposing because it was very sweet and kind of bumbly like him, and I love that he put in effort in doing something special for me.
Thankfully, he consulted my best friend on the ring (like all of my presents haha) and he got me exactly what I wanted
. I absolutely adore my ring! It's a 1.5 carat round brilliant solitaire on 3 rows of micropave. It's simple but gorgeous, and I still stare at my hand all the time
Choosing a Destination Wedding

After our engagement, my FI asked me what I thought about having a destination wedding. I was actually really surprised because I always thought he'd want a big wedding like all of his friends. He liked the idea of it being simpler, and he thought it'd be less work for us to do (ha!). And while the cost wasn't a driving factor for us, it was a bonus that it would probably be a lot less than having it in Toronto. I've personally always wanted a destination wedding because I love the idea of a wedding and vacation combined, and having a whole week of memories with loved ones instead of just one day. I also don't like being the centre of attention, and I knew having a wedding in Toronto would mean at least 200 people, if not more. We checked with our parents, and both were on board because both families have already had big splashy weddings with our elder siblings. So we decided to go forward with having a destination wedding!

I'm going back to school next year so I only have very specific weeks I'd be able to marry. I also wanted to get married sooner rather than later; we've been dating for so long now, I didn't really want to wait over a year to get married. I had time in October, December, February or April. We ruled out October because of hurricane season, February because of spring breakers and high prices, and April was okay but further away than I wanted. We settled on December right before Christmas, and chose our wedding date of December 19, 2014
Choosing a Resort

This was THE most painful process, and I completely empathize with all new brides that are dealing with this. It was so stressful finding a resort that checked all of our boxes, and yet also would be affordable for guests. Our main priorities were:

- Beautiful and modern with a beautiful wedding area
- Close to nightlife and entertainment (our friends are big partiers)
- Under 2k for a week but closer to 1500 would be ideal
- Not too far from the airport
- Golf available and green fees included (FI's parents are golf nuts - this was their one requirement)
- Established wedding department with good reviews
- Good, swimmable beach (we were asking our guests to come all the way to Mexico so we wanted to make sure the beach was gorgeous)
- Family friendly (Our siblings have little ones, and a lot of our friends)

Our first travel agent (more on this later!) helped us narrow down our choice of hotels. I did soo much reading of reviews the first couple of weeks. We decided that Cancun was probably our ideal location, and we started trying to find resorts that fit the rest of our requirements. We finally settled on the Now/Dreams, Palace and Karisma chains. I loved the look of the Now and Dreams resorts, but decided to rule them out for a couple of reasons. First, most were located more in the Riviera Maya area which was further away to nightlife/entertainment, and the beaches were inferior to the Cancun ones. Also, while I loved the look of the hotels, the cost of the weddings was actually pretty high, and I didn't like the idea of multiple weddings per day. So we took them out. I've heard such good things about the Karisma hotels, but we decided to also rule them out mainly because of costs. We were afraid the price would be too high for our guests, especially because certain amenities like green fees weren't included. This was hard though because I fell in love with the way weddings look here, and the whole gourmet experience was really appealing to me.

That left us with Palace. We loved how Palace has really good amenities. There's a $1500 credit per room booked that I thought would be great for guests as they could use it on tours, golf, upgrades, etc. Also, Palace has really good wedding benefits and freebies if we could book more than 75 room nights, which we were pretty sure we could. We first looked at Moon Palace, but ruled it our ultimately because of the beach, location (a bit isolated), and I didn't like the idea that it was such a huge resort. We wanted to spend time with our guests, and Moon Palace just seems like it'd be overwhelming. We finally looked at Beach Palace and decided that it had the best combination of everything we wanted. We loved that it was right in Cancun, 10 minutes from nightlife, the beach is gorgeous, and we liked how it's a smaller, more intimate resort. And to really cap it off, the Beach Palace wedding areas are gorgeous - we are having our ceremony on the rooftop sky deck, and our reception on the sky terrace with private pool - both overlooking the ocean and lagoon!
>> This is where our ceremony and reception are going to be! I love the whole rooftop element
The Booking Process and Dealing with Family

While I was doing all of this, my sister was stressing me out SO much because she's really cheap and she kept sending me links to these 3 star "deals" from travel zoo, cheap caribbean, etc. I told her it was our wedding, and we had very specific things in mind. We wanted to make it affordable for our guests, but at the same time I knew that a 3 star resort in Mexico wasn't going to do it! We thought about changing the location to Punta Cana for a while, doing an off resort wedding and having people stay wherever, etc. Finally I just pushed her aside and focussed on what my FI and I wanted in our wedding. And despite almost booking with Expedia 100 times and literally bothering my TA and I to save what was essentially $30/person (I kid you not), she finally booked with our group.

We did experience a period where we were a bit disillusioned and disappointed in certain people. We had expected more people to book, and we had had people telling us how happy and excited they were, and then disappearing off the face of the earth or coming at us with really disappointing excuses. I think every destination wedding couple goes through this - you expect your loved ones to be as happy and excited. We've since come around though, and we're now super excited and focused on the people that HAVE booked. I am determined to make our wedding week an absolute blast! As of right now, we have 36 adults, 2 toddlers and 3 babies booked! Our situation is a bit different than a lot of brides here because our date was so close and the hotel was already quite booked, we had to put down $300 deposits to hold rooms and we didn't have that 90 day period. We decided to hold 10 rooms/20 air seats immediately, and those got snatched up right away. We've had guests continuing to book, and so far everyone has been able to pay the same price. We have guests coming from Toronto, Edmonton, the US, and Australia

Everyone is staying at the resort and has booked under our group reservation except for my other sister, who decided to book at another resort and is just coming over for the wedding. Gotta love family!

Travel Agents

This has been my other stressful area. Our first TA was from destinationweddings.com - I did what a lot of DW brides probably do. Googled "destination weddings" and clicked on the first thing that came up. I liked their website, and decided to go forward and contact them. They require a $50 deposit which would be used at booking, so figured we didn't have much to lose. Our first agent, Leslie, was nice enough and helped us narrow down our resort, but I didn't love her response time and she ultimately wasn't able to get us a really good rate for Beach Palace. I was finding cheaper rates everywhere else, and this was really frustrating.

I posted on here, and got recommendations for another TA whom I contacted and she was great at first. Super responsive and on the ball, and ultimately got us a really good rate that we were very happy with. Even my FI was really impressed with her. I will be honest in saying since then, we've been really unpleased with her performance as it has completely gone downhill. I will be a lot more upfront and honest with these details when our wedding is over.

The best suggestion I have for choosing a travel agent is to really take your time in talking to different agents, and try to get references from brides AFTER their weddings have already taken place. You want someone that is going to give great service from beginning to end. I also think we had a very short time period to work with (less than 9 months!) and that was me being over-eager haha. If we had waited until April 2015, I think we'd have been less stressed and we'd probably had had more guests come... but c'est la vie
.

Our Invitations

We wanted to get our invitations sent out immediately because our wedding was only 8 months away after booking our resort. We sent out an email immediately to our VIPs with our TA's info, and ordered invitations. We decided to budget here because we've never really cared about other people's wedding invitations, and we knew we still had over 100 invitations to send. We also decided to forego save the dates, and just send our invitations early. I love the way passports and boarding pass invites look, but we didn't really have time to design them and didn't want to pay a ton to have them made. We also figured we could do passports for the people that actually did book with more information.

I found Minted.com and I really liked their designs and prices. We found one that looked like a luggage tag, and thought this would be a fun but simple invite. I realized that the save the date version had all the same specs with just slightly different wording (that I could edit!), but was almost $1 cheaper. Done! I changed all of the info to make it look like the invitation, and ordered 115. Minted was great and I'd highly recommend them. They sent me my proof within 24 hours, and quickly made the changes I wanted. We got them less than a week later, I added some coral and white twine, and got them into the mail immediately. I ordered RSVPs from Vistaprint for super cheap, and put a small note with our website and booking information on the back of it to save money instead of having another enclosure. We decided to NOT put return envelopes and stamps because we've heard that many people don't bother. Instead, we asked people to RSVP by email or our website, and we figured we'd ultimately know if they were coming or not through their bookings! We made the RSVP date October 1, 2014 which is around when final payments are due.

I'd recommend both Minted and Vistaprint. The Minted designs and quality are a lot nicer, and I love that they print the address on for free (the envelopes looked gorgeous!), but Vistaprint is crazy cheap. We ended up ordering our engagement party invitations here, and they look great (albeit cheaper card stock quality and the envelope included is super thin and cheap looking).

I got this custom address stamp from Etsy (SweetmintPress), and figured it was worth the cost because we'd be putting it on our invitations, pre-wedding mailers, thank you cards, etc. Great etsy seller, and I love the stamp

The Dress
I was probably MOST excited about buying my dress! I wanted a sweetheart neckline, lace, trumpet/mermaid style and some type of gorgeous detail to the skirt. In a nut shell, I wanted Vera Wang but for $6k less haha. My mom generously offered to buy my dress for me, and her budget was 2k. I know myself and I can easily have very expensive tastes, so I made sure to book appointments at stores where this budget would be respected. I didn't want to be the girl falling in love with the 10k dress (which I could so easily do haha). My mom and my best friend/MOH came with me to all of my appointments. This was the perfect number - I knew they'd give me their honest opinions, and I also knew they wouldn't overwhelm me either. I made appointments immediately and ended up going to 7 different bridal stores in about a 2 week span (and 1 trip to Kleinfield at the Bay later on - read about my experience here: http://www.bestdesti...e-and-my-dress/).

I had a really good experience dress shopping. All of the salesladies were lovely, and I tried on a ton of gorgeous dresses. Luckily, the style I loved most actually looked best on me too, so I knew what I wanted. The first week, we had a bunch of dress names written down to possibly revisit, but none were "the one" yet, for whatever reason. I found some dresses photographed beautifully but didn't have a lot of wow factor in person. I also found the opposite to be true - some dresses looked SO good in person, but once we saw it in a picture it'd be very meh. I also tried on some that would have been gorgeous if I was having a wedding at home, but just seemed too big or fancy for a small wedding in Mexico. I didn't want to go super simple or beachy with my dress, but I still wanted to be pragmatic.

I found my dress at Dina Alonzi - a high end bridal store in Toronto (they carry Lorenzo, Rivini, Monique L'huillier, etc.) Now this was totally out of our budget, but they were having a sample sale and I figured this would be my one opportunity to try on amazing high end dresses at a cheaper price! After trying to get a few on and not having them go past my butt (!), I tried on one that fit perfectly - Monique L'huillier's Sahara - stepped out and looked in the mirror, and we all kind of just sighed at once. The dress was very simple and romantic, and it just fit so beautifully. It also had everything I wanted - a soft, sweetheart neckline, lace, a bit of ruching, and a lightly asymmetrical skirt. It was lightweight and very easy to walk and sit in. The sales lady put a veil on me, and I couldn't take my eyes off of myself. There was no crying or anything like that, but kind of a breathless anticipation, if that makes sense. NOW this dress was still completely over budget. The retail original price was $5400, the sample price was $2700 - half price and a super good deal, but still more than we had been anticipating. With tax, it brought it up to over 3k which is a substantial increase and I couldn't do that. So I took it off, and we left the store, and I went to more dress appointments and almost settled on a couple of different ones, but I couldn't stop thinking about that dress.

This is when I decided to consider other options. I found preownedweddingdresses.com and I found my dress listed as a sample, in my size for $1500 US. I emailed the seller and found that it was from a bridal boutique in Atlanta, and that the dress was in almost perfect condition because the store was very good at being the only ones to handle dresses. She e-mailed me pics of the hem and lace close up, and I could see that it was perfect. My heart stopped. I went back to the original boutique to try on the dress again and make sure the size was good and that I still loved it. I did! So I bought the dress online and had it shipped to Niagara Falls to save on shipping, and my mom and I drove over to pick it up the next week. The dress was PERFECT - in better condition than the sample at the boutique, and we got it for about $1800 CDN total… under budget and a Monique L'huillier!!

I still need to get it hemmed, but otherwise it fits pretty perfectly.


So my advice here is be open to where your dress is coming from! I never thought I'd buy a sample, and I definitely never thought I'd buy my dress online. But overall, I managed to get my dream dress for less than a third of the retail price, and I couldn't be happier!
My dream shoe is Jimmy Choo's Yvette or Lang sandal in Champagne or Gold on the left. My realistic shoe is probably Badgley Mischka's Landmark in Platino (right) - just need to find them in person to try them on. I don't want anything overly bridal because I do want to be able to wear them again.
I'm still debating this, but I'm thinking of getting this dress made as a reception and TTD from Carabridal on Etsy.
Bridesmaid Dresses

I bought these almost immediately. I've been a bridesmaid 4 times now, and I personally have always hated the whole to do about bridesmaid dresses. I haven't loved everything I've had to wear, but I always knew that was what I was signing on for as a bridesmaid, so I sucked it up and wore whatever dress the bride wanted me to. I've had to deal with other bridesmaids making such an ordeal about the dress, and I never got that.

I know my 2 co-mohs VERY well as they are my best friend and cousin, so I just bought and chose their dresses for them. Bridesmaid dresses was not something I wanted to stress about at all. I liked the J Crew silk chiffon dresses, and basically bought what was on sale and matched my colour scheme. I made sure the dresses were in styles they liked (i.e. 1 loves one shouldered dresses, the other hates to wear a strapless bra so I got something with thick straps) and bought them! Got them for about $80 each and the girs are happy with them. They can wear whatever jewelry and neutral/gold toned shoes they want. I like the mismatched/ombre look for dresses


>> My original mood board
Groom, Groomsmen and Ring Bearers' Attire

The one thing my FI was a bit excited about (haha) was being able to splurge on a new suit. He bought a light grey fitted Canali suit from Harry Rosen's that cost more than my dress (ha!), and he's pretty happy about it. We're going to have him in a white shirt, black and white striped suspenders and a black bow tie. I want him to look more classical than beachy.

The groomsmen are going to look complimentary, but not exactly matching. So they are going to be wearing darker grey dress pants, white shirts tucked in, black suspenders, and the checked bow tie on the left (no jackets). I got their suspenders and bow tie from an online store called the Grunion Run.

Our 3 little nephews are going to be ring bearers (they will be 2.5, 3.5 and 9 months), and I got them khaki pants (Old Navy), white button up t-shirts (Gap), navy blue boat shoes (Gap), and little checked bow ties and navy suspenders (Etsy - Sweetnswag). I am so excited to see how they look - they are going to be so so adorable
.
Vendors
I booked these almost immediately after setting our wedding date. It took me a while to narrow down our choices, but we ended up hiring DJ Discomovil for music and some lights, Styling Trio for makeup and hair, Indigo Wedding for vidography and Juan Carlos Lancelottifor photography.

My FI didn't want to spend a crazy amount on photography or videography, so we did budget more here. If budget was no issue, we probably would have went with Elizabeth Medina or Del Sol, but the amount they charge for just 5-6 hours of photography was way over our budget, and I wanted to allocate that money toward other things as well. Our ceremony is fairly early at 2pm, and we're hoping our party goes until at least 11 - so we wanted a package with 8-10 hours! I found Lancelotti's website randomly, and I really liked the softness to his pictures and how he captures intimate moments. I was torn between him and Samuel Luna for a while (I still love his work!), but my FI liked Lancelotti more so we went with him.

He is priced SO reasonably, and we're getting our engagement pics, TTD and 8-10 hours with 2 shooters and all edited pics for a really good price. We did our engagement pics on Isla Mujeres when we went down for our site visit in June, and here are some pictures he took:
OOT Bags

We want to make our guests feel very welcomed and appreciated, so we're definitely going to make welcome bags. I ordered the actual bags from Wedding Chicks when they had their 40% off sale. I got 20 bags with mint green writing, and 20 bags with peach coloured writing. My FI didn't want anything overly feminine as we're giving the bag to guys as well, so we chose the Hola Amigo design. They came out to $3.38 per bag!

Each guest will get a bag, and we're also going to include personalized tumblers for everyone. We got the Dollarama ones for $2 each, and I'm going to order the "drink in my hand"stickers from Etsy soon. Each couple/single will also get a bath pouf (Dollarama), deck of cards (Bicycle - Costco), door knob hanger (Etsy) and an Oh Shit kit including Emergen-C packets, hangover pills (my FI can order these 2 things at wholesale costs), Advil tube (Dollarama) , bandaids, herbal tea packets, travel aloe (target?), condoms for the singles (haha), and a couple safety pins, bobby pins and hair tiers each. We're also putting in fun sunglasses for the men, and pashminas for the women (my mom can order these at wholesale prices). I'm estimating the singles bags will be about $15-$20, and the couples a bit less than that because they'll be sharing some of the contents.

For the kids, we're going to add sand toys, colouring books/crayons, bubble wands, stickers and a book each. We decided to also get a couple boogie boards and frisbees that we're going to take down so everyone can use on the beach.
>> We ordered these totes, but 20 with mint green writing and 20 with peach writing. I'll update the pic when our actual ones come in! They are being shipped to us right now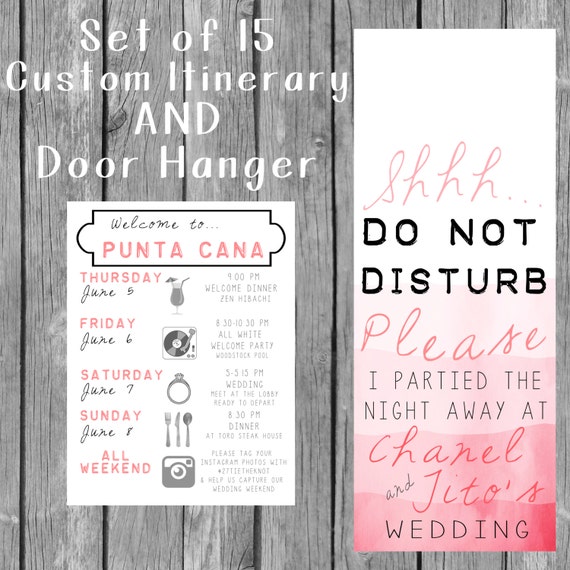 >> I'm going to order these door knob hangers once we finalize our number! I may or may not also get the itinerary card (Etsy - OneEarDesign)
>> I bought these from Dollarama for $2 each. I'm going to order the Davet Designs stickers on Etsy to personalize them, and I got some plain black vinyl stickers to put peoples initials as well. I also got little kiddie ones for the toddlers
I apparently have too many pics to upload haha. I'll try to post my decor stuff later!
Edited by tygrrlily, 07 August 2014 - 03:12 PM.